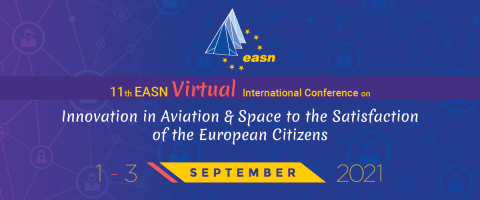 SLOWD project is pleased to take part in the 11th EASN Virtual International Conference which will take place online between 01 and 03 September 2021.
Over the years the EASN conference has been established as a major European Aeronautics event. The 10th international gathering of the EASN Association was virtually attended by approximately 400 scientists and engineers from industry, academia, and policy authorities offering them an exceptional opportunity to exchange knowledge and results of current studies and to discuss directions for future research in the field of aeronautics.
This year a SLOWD dedicated session will be held on the 2nd of September 2021 from 16:05 until 18:35 CEST and will be chaired by the SLOWD Coordinator, Francesco Gambioli. The project session will include the following presentations:
16:05  SLOWD overview
16:25  Flexible Aircraft Wings with Fuel Slosh Effects
16:55  Experiments and scaling effects in the context of a SDOF vertical sloshing problem
17:15  Computing Aircraft Fuel Slosh Induced Dissipation via a Volume-of-Fluid Formulation
17:35  Nonlinear sloshing integrated aeroelastic analyses of a research wing prototype
17:55  Statistical analysis of sloshing-induced dissipative energy across a range of Froude numbers
18:15  Prediction of energy dissipation in violent 3D sloshing flows by Smoothed Particle Hydrodynamics
We will be more than happy to meet you there!
Share this: