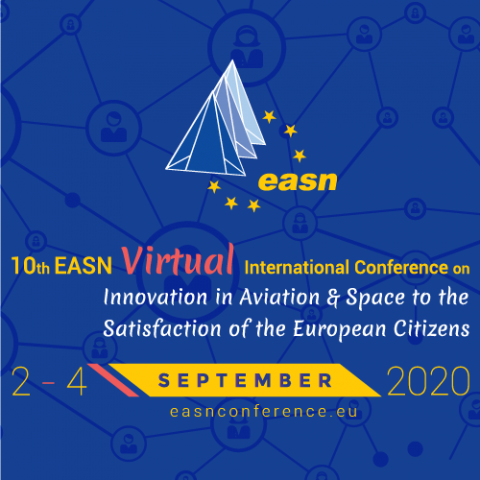 The SLOWD project was delighted to participate in the 10th EASN Virtual International Conference on "Innovation in Aviation & Space to the Satisfaction of the European Citizens", which took place online between 02 and 04 September, 2020 .
 
Over the years the EASN conference has been established as a major European Dissemination event. The 10th international gathering of the EASN Association was attended by more than 350 researchers from various disciplines who presented their high quality recent achievements and new upstream research ideas.
 
The SLOWD project exploited this opportunity and disseminated its activities and achievements in a dedicated session that was held on the 3rd of September 2020 from 11:00 until 13:20 CET and chaired by Mr. Francesco Gambioli (Airbus, UK). The project introduced its current progress and upcoming results through the following presentations:
SLOWD Project Overview presentation Francesco Gambioli
Sloshing Induced Damping in Vertically Vibrating Systems Joe de Courcy , Lucian Const ant in, Brano Titurus, Tom Rendall, Jonat han Cooper
Experimental study of the damping effects on a SDOF sloshing tank Jon Martínez Carrascal, Leo Miguel González Gutiérrez
Advances in Reduced Order Modelling for Linear and Nonlinear Sloshing Marco Pizzoli, Francesco Saltari, Franco Mastroddi
Proper Orthogonal Decomposition and Wavelet Analysis of Sloshing Flows Tiziano Pagliaroli, Francesco Gambioli, Francesco Saltari, Jonathan Cooper
Investigating the Impact of NonDimensional Fluid Properties on Violent Sloshing by means of High Fidelity Volume of Fluid Simulations M. Wright, A.G. Malan, F. Gambioli
Prediction of energy dissipation in violent sloshing flows by Smoothed Particle Hydrodynamics Salvatore Marrone, Javier Calderon, Jon Martinez, Matteo Antuono, Andrea Colagrossi

A big thank you to all participants who attended our session and fueled fruitful discussions.
Share this: